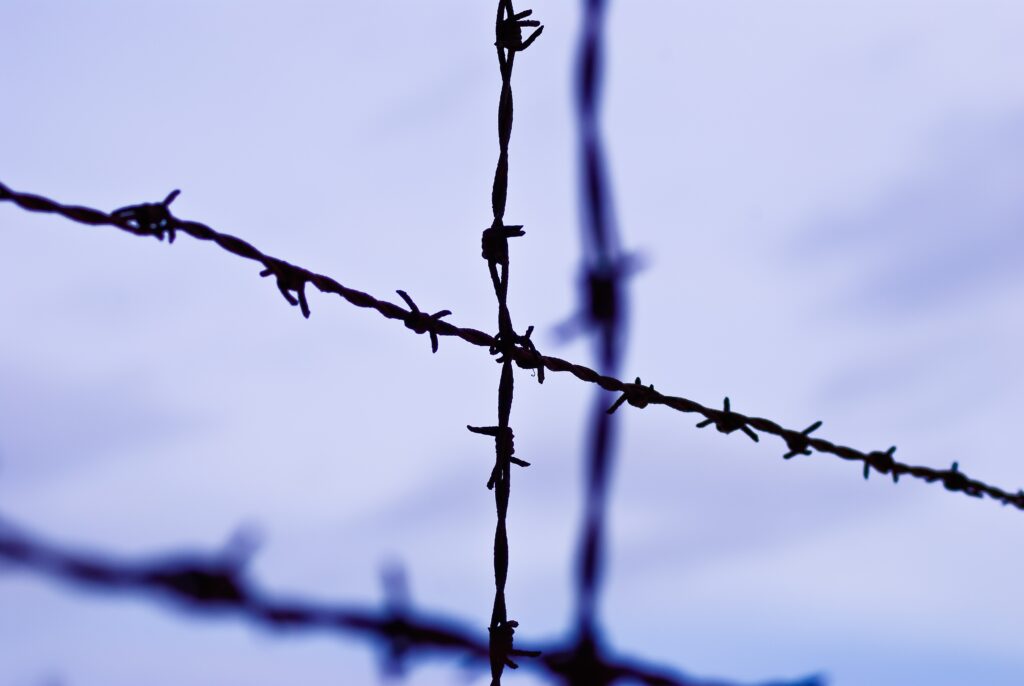 Game theory is a field which seeks to quantify and predict outcome to "games" of strategic interaction in fields like economic and international relations. These formal models of human interaction – and particularly one called the Prisoner's Dilemma – reveal fundamental problems humans face and set us on a search for solutions.
The theoretical setup of the Prisoner's Dilemma posits two people arrested for committing a crime together but held separately. The police tell each that if he confesses, and his partner does not, he will go free while his partner faces twenty years, and vice versa. If both remain silent, both get five years. If both confess, both get ten years. [1] What would you do?
Imagine your partner confesses. You can either confess and get ten years or be silent and get twenty. Hoping to minimize your time in jail, you choose to confess. What if your partner is silent? You can either confess and go free or be silent and get five years. Once again, you choose to confess. [2]
Your partner has the same idea and arrives at the same conclusion. You both confess and get ten years each. This is not the path you would have chosen if you decided together — you could have gotten five years each. Further, it is far from the best outcome for yourself alone. [3]
This is the problem of the Prisoner's Dilemma: everybody follows their own self-interest, yet the outcome is not in anyone's interest. [4]
The Prisoner's Dilemma appears in the real world with major consequences, such as in the field of international relations. It can spark arms races, such as in the Cold War: each country is better off increasing their arms in order to gain advantage over the other or avoid being disadvantaged. However, this leads to nobody maintaining such an advantage along with high instability due to the amount of weapons. It would have been better for everyone if balanced arms were maintained with low amounts of weapons. [5]
Beyond a prevalent obstacle in foreign relations, the Prisoner's Dilemma reveals a fundamental problem of human nature: pursuit of self-interest does not always lead to the optimal outcome, for you or for others. The Prisoner's Dilemma, therefore, reveals how self-interest can undermine itself.
If pursuing self-interest can be against our self-interest, maybe we are missing something in our understanding of self-interest. In the original example, we assumed that self-interest was minimizing time in jail. Game theorist and minister Rev. Ben Cooper describes this kind of self-interest as considering only "material" outcomes, a category that includes things such as money, goods, positions, opportunities, comfort, and the like. [6] As explored in the Prisoner's Dilemma, such self-interest can undermine itself by incentivizing choices that lead to unideal outcomes.
However, David Gallagher explores a different kind of self-love, as understood by Saint Thomas Aquinas, a medieval Catholic theologian and philosopher. This understanding can inform a radical conception of self-interest that does not undermine itself but rather avoids the Prisoner's Dilemma.
Drawing on Aristotle, Aquinas defines love as "[willing] the good for someone."[7] Self-love, then, means to will the good for ourselves. If there is any higher good than material goods, then true self-love chooses that higher good for oneself. Christianity posits that the source of all good is God, and humanity's highest good is relationship with Him [8]. Being in relationship with God calls Christians to love who God loves (all people). Doing what God does, with God's help, makes one's heart closer to God's, the source of all goodness.
Therefore, self-love can cause us to love God and our neighbors when we realize that "the best way to love ourselves is to love God more than ourselves." [9]
In Gaudium et Spes, the Catholic Church says "man, who is the only creature on earth which God willed for itself, cannot fully find himself except through a sincere gift of himself." [10] This denial of material or earthly self-interest for the sake of another's good (a sincere gift of self) is actually the fulfillment of one's own higher self-interest (finding oneself).
However, this gift of self cannot simply be a means to a selfish end – that would be no free gift at all, and one would not even reach the highest good they were pursuing. The irony of the Prisoner's Dilemma reminds us that selfish pursuit is not a viable path. Rather, when one seeks to love God and neighbor, even though sparked by self-love, one's self-interest is radically transformed into the interest and love of one's neighbors. When we love another, their "good becomes [our] own good." [11]
We can see, then, how love solves the Prisoner's Dilemma. Cooper argues while many assume love demands the self-sacrificial choice to "cooperate" in the Prisoner's Dilemma, love actually breaks "what may seem at first to be a Prisoners' Dilemma, because [one's] preferences over the outcomes should change from what we might otherwise expect" in the original game. The situation is no longer a Prisoner's Dilemma. [12]
Remember that in a proper Prisoner's Dilemma, one's preference would be to confess; cooperation means to deny this preference and remain silent. However, Cooper points out that love changes one's preference so they desire what is good for another. [13] In this case, the prisoner's preference goes from minimizing his own jail time, to minimizing his partner's. Even if contrary to material self-interest, this is not contrary to higher self-love which generates love of God and neighbor. Therefore, the situation ceases to be a Prisoner's Dilemma characterized by the conflict between self-interested choices and self-interested outcomes. Thus, Rev. Cooper argues that a Christian does not choose to "cooperate" or "defect" in a Prisoner's Dilemma, but rather to love or to hate. [14]
Unlike the original idea of self-interest, this transformed self-love achieves its goal: either their partner gets off free, which is what self-love transformed into brotherly love desires, or both get five years because the partner also chose to love. The latter is even better for both because both have chosen the highest good of love.
There are two important caveats to consider. First, Cooper's model does not apply to every case. [15] In foreign relations, when the Prisoner's Dilemma threatens to undermine an exchange of aid for human rights reform, love still prefers reforms over the "interest" of an inhumane government. Likewise, in individual situations, the virtue of prudence requires us to consider what is truly good for another in a particular situation. [16] It is not always immediate or material good.
Second, the particular setup of a Prisoner's Dilemma is possible but not common in individual interactions. Still, this unique situation reveals a problem of self-interest that we do encounter frequently and points us towards a new understanding.
The Christian understanding of love of self, God, and neighbor develops a concept of self-interest free from the Prisoner's Dilemma. While Christians are asked to "pick up [their] crosses and follow [Jesus]," the Gospel aligns such self-sacrifice with true self-love. [17] Humans are not doomed to a paradoxical game where we pursue our immediate good and only hurt ourselves more; rather, the message of the Gospel is a hope that frees us to live for a higher good than idols of comfort and ease, while bringing others along with us.
---
[1] Steven Kuhn, s.v. "Prisoner's Dilemma (Stanford Encyclopedia of Philosophy)," in Stanford Encyclopedia of Philosophy, ed. Edward N. Zalta (2019), accessed November 23, 2021, https://plato.stanford.edu/entries/prisoner-dilemma/.
[2] Ibid.
[3] Ibid.
[4] Ibid.
[5]Encyclopedia Britannica "Arms race: Prisoner's dilemma models," https://www.britannica.com/topic/arms-race/Prisoners-dilemma-models.
[6] Ben Cooper, "Game Theory in Christian Perspective," Faith and Economics, no. 65 (Spring 2015): 17.
[7] Thomas Aquinas, Summa theologica, trans. Fathers of the English Dominican Province (New York: Benziger Brothers, 1911-1925), ST I-II, q. 26, a. 4.
[8] David M. Gallagher, "Thomas Aquinas on Self-Love as the Basis for Love of Others," Acta Philosophica 8 (1999).
[9] Ibid. 38.
[10] Ibid. 30.
[11] Vatican Council. 1998. Pastoral constitution on the Church in the modern world: Gaudium et spes ; promulgated by His Holiness Pope Paul VI on December 7, 1965. Boston: Pauline Books & Media.
[12] Cooper, "Game Theory," 16
[13] Ibid., 17.
[14] Ibid.
[15] Ibid., 18.
[16] Internet Encyclopedia of Philosophy "Aquinas: Moral Philosophy," accessed November 23, 2021, https://iep.utm.edu/aq-moral/#SH3a.
[17] Matthew 16:24