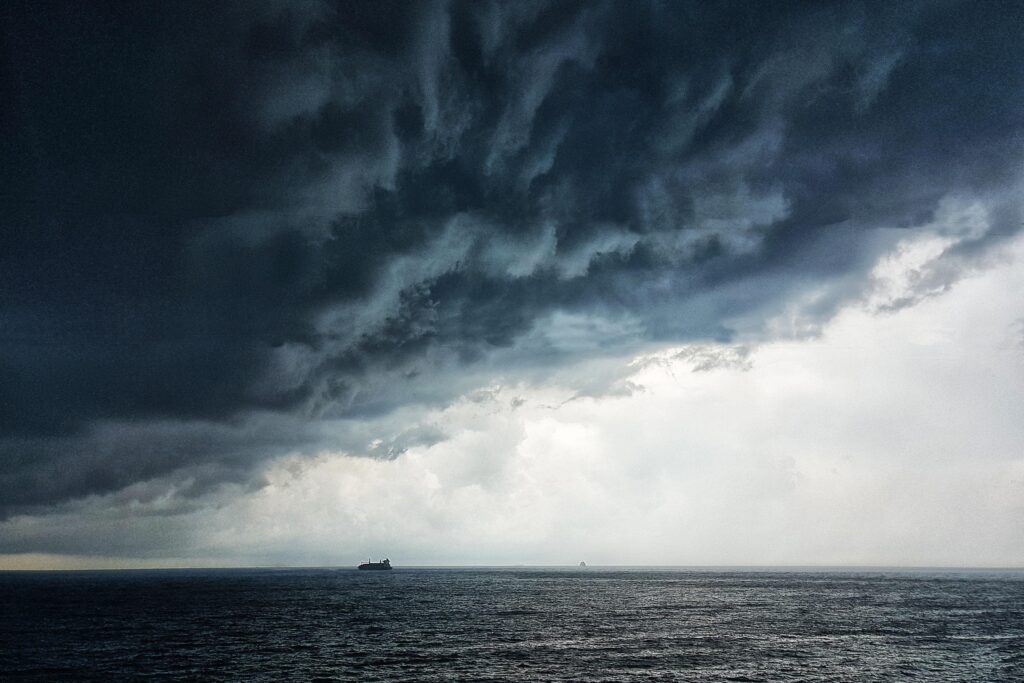 I have often dreamt of an alarming scene: it is of a sailor lost on the stormy seas frantically trying to turn the great vessel against the waves to keep it from turning over. It is, as one might expect, a scene of terrible anxiety that does not easily leave my mind.
This sort of dramatic dream is, on an archetypal level, not uncommon; many people have dreams that leave them with a sudden sense of alarm with their limited efforts—from the classic terror of falling into an eternal abys to drowning to being buried alive, these all spark a particular rhythm within the human emotion—it is the feeling of futility: the fecklessness of humanity in the face of great difficulty.
But what does this dreaded term futility really mean? Most remarkably, futility is not the absence of action. Indeed, one cannot be futile without effort. Rather, futility is a fruitless cycle of actions and as a result, futility is highly prevalent in the area of our lives we call work. Work consists of a collocation of constant effort, standards of achievement and incentives. Within the realm of work laziness is costly while increased effort, time and efficiency is rewarded. It is in this same area where humanity risks facing its futility. Failure, disappointment, and an ultimate lack of satisfaction is unavoidable in many areas of work.
While not every aspect of work produces futility, the American workforce is brimming with a sense of futility on every level. The American workforce has experienced a recently noticed phenomenon in labor participation called the Great Resignation. This sudden and widespread disillusion with mediocre jobs is often being portrayed as a backlash from decades where "unemployment was [used as] a sword over every worker's head… to "motivate.'" However, the reason behind this sort of unexpected trend seems far more aligned with the workers personal conception of futility than a newfound embrace of unemployment.1
The rise in worker's sense of personal futility can be found clearly in increased levels of despair and depression. This '"working-class" crisis, defined by increasing mortality among blue-collar and/or unemployed workers" feeds off the propensity within the human spirit to perceive work as futile, leading ultimately to significant frustration and despair.2
With futility so prevailing in one of the most significant segments of our lives, it ought to be asked, how did Christ perceive futility?
On the most basic level, Christ's life, like our own, was established between a profound hope of healing and restoration, and a deep darkness of death and suffering. Christ lived among ordinary, futile people yet offered something exceptional—a new way to understand futility.
Christ wept at the fresh-cut grave of his dear friend, experienced the rejection of his own teachings by his closest friends, and even looked upon his own mother as he died and accepted that he could not comfort her tears in that moment. This kind of futility can be easily forgotten when considering the ultimate triumph of Christ's story but it cannot be forgotten that Christ's own ministry fell far more often to deaf ears of ineffectual disciples than on the souls of those willing to receive it. Even Christ was not untouched by futility.
In Romans 8 Paul connects futility with human original sin—"For the creation was subjected to futility, not by its own choice, but by the will of the one who subjected it" (Romans 8:20).3 Paul, therefore, does not consider the futility of humanity to be found in a limited mental aptitude or physical strength, but in the cursed nature of all created beings. Futility is an undeniable, unavoidable consequence of an imperfect world.
God's plan for futility, revealed in Romans 8, is not despair but a loving demonstration of His unfathomable grace and mercy. Paul continues to profess how the subjugation of humanity by futility is for the purpose that creation might "be liberated from its bondage to decay and brought into the freedom and glory of the children of God" (Romans 8:21).
God's purpose for futility, both in the busy contemporary lives of believers and Christ, is to be an avenue of revelation of the greater redemptive vision God offers creation. Futility is not the problem in itself—it is a symptom of human depravity which graciously urges the pursuit of a cure which only Christ offers.
Paul describes the reality of human corruption as the necessary groundwork which reveals the hope of restoration. It is in this "hope [that] we were saved. But hope that is seen is no hope at all. Who hopes for what they already have? But if we hope for what we do not yet have, we wait for it patiently" (Romans 8:24-25). Therefore, a wellspring of hope in a new, uncorrupted body, soul, and spirit is the purpose of futility and the ultimate end of Christ's example of faith.
As Paul reminds us, humanity faces down the storm of futility with the same weakness that a sailor faces dashing waves on the open sea. It is unavoidable and any attempt to avoid it will only steer us closer to destruction.
As the American workforce exits the jobs which have exposed the reality of futility in their lives, the only lasting solution to this inescapable condition is found in Christ. Christ offers a hope in something unknown to all of humanity—enduring peace and comfort in His love. As faith arises to see that the storm of futility is not simply destructive, a true sense of meaning and purpose may take the place of fear and despair through the life and example of Christ.
Endnotes
Elting, Liz. "The Incredibly Simple Reason Behind the Great Resignation." Forbes, November 11, 2021.
Gutin, Lliya, and Robert Hummer. "Occupation, Employment Status, and 'Despair'-Associated Mortality Risk among Working-Aged U.S. Adults, 1997-2015." National Library of Medicine, May 18, 2020.
Romans 8:20-25 New King James Version (NKJV).