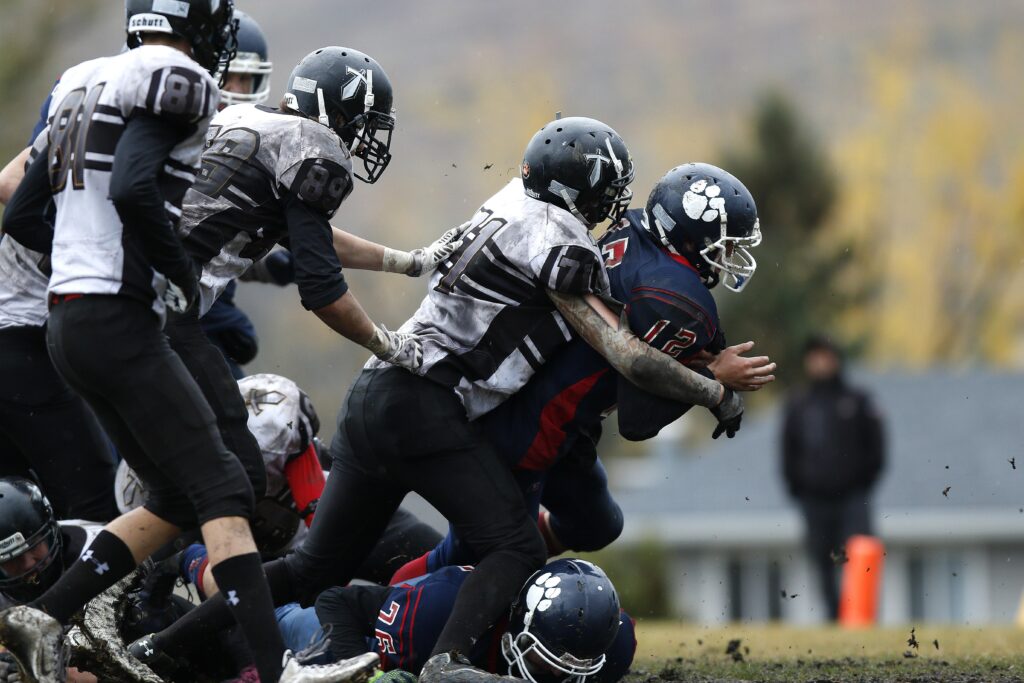 "What is your why?" is the question my football strength coach belted at the eighty of us as he stood on the dewed soccer field. Six-thirty in the morning is hardly the time for deep psychological questions, and yet his timing could not have been better. His question introduced the next two and half hours of grueling manual labor. For that time, we sprinted, crawled, pushed sleds, lifted heavy weights by using each other as weight racks, and did every other exercise that made even the seasoned seniors shudder. Day after day, week after week, we showed up to perform these tasks. Why we did this work requires some thought because most people—post-football me included—avoid such difficulty with all haste. Yet, as I consider my life now, I understand how important having an answer to his question was and that I needed a why that would last me through the rest of my life.
Most work is difficult enough to cause significant stress when one attempts it. According to the American Psychological Association's (APA) 2021 Work and Well Being Survey, roughly 7 out of 10 working American adults report daily work-related stress. [1] Coupled with increasing rates of depression and hopelessness among young American adults as reported by Mental Health America, these findings from the APA reveal that many struggle to answer the why question. [2] Instead of turning toward a career or family, young people turn to outlets such as video games and pornography for the simple reason that they bring easy satisfaction. In the end, these cheap pleasures lose their value and ensnare their users. Jonathan Pokluda, author and pastor at Harris Creek Baptist Church, explained that "if you waste your days here pursuing comforts, then you miss out on your purpose." [3] Each person has something that only he or she can contribute during his life, but everyone must figure out what motivates them enough to follow that path. Anyone who cannot in their lifetime is then left with, as Pokluda concludes, "a wasted life." [4]
The entrepreneur Simon Sinek explains the foundational nature of the why question in his book Start With Why: How Great Leaders Inspire Everyone to Take Action through what he calls the Golden Circle. The Golden Circle, as Sinek lays it out, is a set of three concentric circles: the innermost is why, the next how, the outermost what. At a base level, Sinek explains that "people don't buy WHAT you do, they buy WHY you do it." [5] Throughout the book, Sinek uses Apple as a prime example of a business run by an answer to the why question. Apple is not successful because it creates good computers (their what) or because they make them with a special emphasis on user interface (their how). Apple is one of the largest, most successful tech companies in the world because Steve Jobs and Steven Wozniak wanted computing technology to be radically simple to use and widely accessible for most people (their why).
Further, Sinek advocates for an internal locus of control—the feeling that you, not some outside force, are in control of your life. Internalizing competition and control has the effect of bringing more people to your team. Through the example of a high school cross-country runner with cerebral palsy, Sinek illustrates that "when you compete against others, no one wants to help you. But when you compete against yourself, everyone wants to help you." [6] Everyone knew that this kid was running to beat himself. The result: even his competitors, after finishing the race themselves, would run beside him until he crossed the finish line. People generally tend to be wary of others who they perceive as competition, so competing against them does not produce cooperation. Only when one looks to improve himself or his business for their own sakes do others become willing to join that venture. The more hands, the more growth; after all, "a threefold cord is not quickly broken." [7]
Lacking an answer to the why question affects even the smallest of tasks such as rising from bed in the morning. The bed is comfortable, and, if one does not have a valid reason to leave its warmth, would it not be better to linger just a bit longer? In his Meditations, the second-century Roman emperor and stoic philosopher Marcus Aurelius criticized such laziness: "Whenever in the morning you rise unwillingly, let this thought be with you: 'I am rising to the work of a human being. Why then am I dissatisfied if I am about to do the things for which I was brought into the world? Or was I made to lie under the bedclothes and keep myself warm?'" [8] People have an insidious tendency to slip into comfort and ease though they have much work to do. This phenomenon is the result of a lack of purpose and drive. People who stay in bed, as the philosopher king continues, fail to recognize that they are "unwilling to do the work of a human being, not eager to do what belongs to [their] nature." [9]
Marcus Aurelius is too harsh. Perhaps the problem is not that too many people are simply unwilling to do the work that would benefit them but that they fail to understand why they ought to do it. Even if they slide out of bed and stumble through their morning routines, would they have the motivation to perform well and to keep improving? As I return to my memories of those hot summer mornings on the turf, the love for my teammates overwhelms me. I remember how my mindset had shifted going into that season from focusing on my development to putting the success of the team at the front of my mind. All my teammates and I knew our why: to strive and to play alongside each other, for each other. Each pound added to our backs was one more we knew we would be able to carry when the stakes were high, and we smiled as we lifted it because of our commitment to each other.
Now, as a college student without a football team that relies on me, I have realized that the work I do is for a greater purpose than my career and relationships. Aurelius and King Solomon agree that death takes away whatever earning we deserve for our work. The emperor posits that "he who feels an overwhelming desire for posthumous fame does not consider that all those who remember him will themselves also die very soon," and Solomon adds that "the dead know nothing, and they have no more reward." [10, 11] My end is vanity because I, like my billions of predecessors, will return to dust. Why then should we work all the days of our lives if we cannot receive the due wages for our earthly labor? The Christian believes that each of us has a deeper calling. As the Westminster Catechism begins, "The chief end of man is to glorify God, and to enjoy Him forever." [12] A Christian's goal is to be in continual communion with God, so he ought, above all, to live committed to Him and to do His will through the loving relationship that He extends. As a result, he "will receive the inheritance as [his] reward." [13] This conclusion, though it sounds overtly theological, has deep philosophical applications for non-believers. Everyone needs an outside motivation, an overarching why, in order to make the most of their life.
Endnotes
1. "Work and Well-Being 2021 Survey Report." American Psychological Association. American Psychological Association. Accessed May 16, 2022. https://www.apa.org/pubs/reports/work-well-being/compounding-pressure-2021.
2. "The State of Mental Health in America." Mental Health America. Accessed May 16, 2022. https://www.mhanational.org/issues/state-mental-health-america.
3. Pokluda, Jonathan. "Laziness & Discipline | Jonathan Pokluda – YouTube." YouTube. Accessed May 11, 2022. https://www.youtube.com/watch?v=oG1Uc4qn7ts.
4. Ibid.
5. Sinek, Simon. Start with Why: How Great Leaders Inspire Everyone to Take Action, 41. London: Portfolio/Penguin, 2013.
6. Ibid. 223.
7. Ecclesiastes 4:12 ESV
8. Marcus Aurelius, Lucian, Justin, Walter Pater, and Irwin Edman. Marcus Aurelius and His Times; the Transition from Paganism to Christianity, Comprising Marcus Aurelius: Meditations; Lucian: Hermotimus, Icaromenippus; Justin Martyr: Dialogue with Trypho, First Apology; Walter Pater: Marius the Epicurean (selections) With an Introduction by Irwin Edman, 44. New York: Pub. for the Classics club by W. J. Black, 1945.
9. Ibid.
10. Ibid. 36.
11. Ecclesiastes 9:5 ESV
12. Westminster Assembly (1643-1652). The Assembly's Shorter Catechism, with the Scripture Proofs in Reference : with an Appendix on the Systematick Attention of the Young to Scriptural Knowledge, by Hervey Wilbur. Newburyport [Mass?] :Wm. B. Allen & Co., 1816.13. Colossians 3:24 ESV